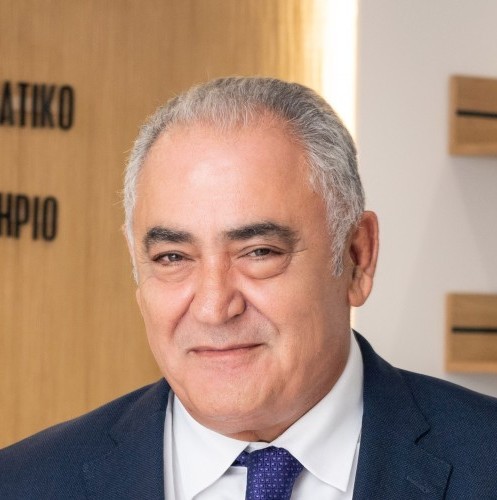 Giannis Chatzitheodosiou
President of the Αthens Chamber of Tradesmen
Ioannis Chatzitheodosiou was born at Babalio Valtos of Aitoloakarnania (1963). He is of Greek Pontic origin.
He studied Economics at the Higher Industrial School of Piraeus (University of Piraeus) and participated at the Board of Student Association.
He started his professional career as Insurance Consultant at Nationale Nederlanden. He founded his own Agency "Insurances Chatzitheodosiou" (1990), transformed later as "MEGA Insurance Ltd", (1998), and finally as MEGA BROKERS SA (2006). MEGA BROKERS SA is the largest Insurance brokerage company in Greece during the last 12 years. He is the President and the CEO till today. He has been elected as a Member of the Board of Directors of the Association of Insurance Mediators of Greece (EADE).
He was elected as Municipal Councilor and President of the Municipal Council of Agia Varvara in 1990, re-elected in 1994, while from 1993 to 1996 he was appointed as President of the Prefectural Hospital of West Attica (formerly Hospital for Infectious Diseases).
He was elected as Vice-President at the Union of Hellenic Chambers of Commerce in 2018, while from August 2021 onwards he holds the position of the President.
He was elected as a Member of the Board of Directors at the Athens Chamber of Tradesmen in 2001, Secretary General from 2012 to 2014 and President from 2014 till today. He also served as General Secretary and President of the non Profit Company created by the Athens Chamber of Tradesmen named "Hermes".
He was appointed as Vice-President of the Organization for the Promotion of Alternative Dispute Resolution Methods (OPEMED), by Mr. P. Pikramenos, Vice-President of the Greek Government.
He is the Vice-President of the Regional Council of the Chambers of Attica and Honorary Member of the Board of the International Chamber of Commerce (ICC).
He is a Member of the Economic Chamber of Greece, Member of the Board of the Managing Authority for the Operational Program of Attica Region and Member of the Board of the Hellenic Chambers & Business Transport Association (EESYM).
He is married with Mrs Chrysanthi Tsichli and has two children, Tasos and Ioanna.