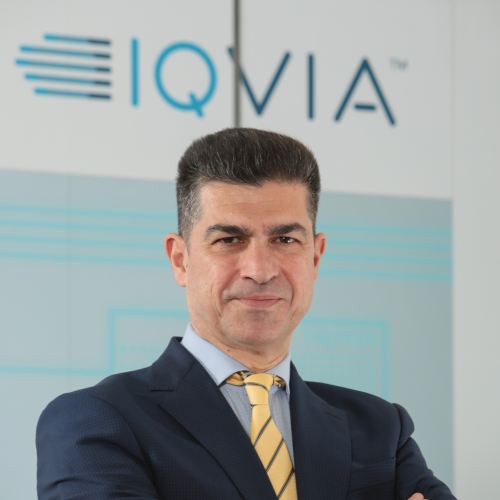 Nikos Kostaras
General Manager, IQVIA Hellas
Nikos joined IMS Health in 2009 as Head of Sales and Marketing to build the new sales team and strengthen the customer-centric approach of the commercial team.
Taking over as General Manager in 2014, he successfully implemented locally the acquisition of Cegedim and the merger with Quintiles, a global leader in clinical trials. The company, under the new name IQVIA, offers a series of solutions in: a) Health Data (Product sales in retail and in specialized channels, Electronic Prescription), b) Consulting through Advanced Analytics, Management Consulting, HTA, RWE and Primary Research Market, c) Technology (CRM, BI systems, Multi-Channel Marketing, SW for QMS, PV, Regulatory) and d) Clinical Studies.
Under Nikos' leadership, the company strengthened its extrovert profile with a series of actions. For example, IQVIA has established in Athens, 3 international hubs for: a) Technological Solutions, b) Health Economics and c) Market Research. The establishment of 3 hubs as well as the organic growth of the company allowed the recruitment of 150+ top professionals in the period of 2020-22. It is important that almost 50 of the recruitments refer to Greeks who have returned from abroad, implementing in fact the brain-gain. The latest growth initiative of IQVIA Hellas is the expansion in the field of Patient Support Programs, increasing the company's footprint in Greece.
As a result of the aforementioned actions, both at local and central level, IQVIA Hellas has increased the number of employees tenfold since 2014, employing more than 350 high-level professionals. Its investments in 2023 exceed €22 million and are focused on clinical studies, hubs' employees, and expansion to PSP.
Nikos' career path records multinational companies in various industries, such as consumer goods, pharmaceuticals, financial and service companies. Since 1994, he has held key commercial positions with increased responsibilities in global organizations both in Greece and Italy, mainly in companies such as Mars, Procter & Gamble and Novartis OTC. His experience mainly covers the area of Marketing and Sales, where he held positions of responsibility, with a history of successful and award-winning launches. His main areas of expertise are Strategy, Business development, commercial effectiveness, planning, product management and sales reorganization, among others.
Nikos is a graduate of the University of Piraeus and holds an MBA from ALBA. His mother tongue is Greek, while he speaks English and Italian very well.