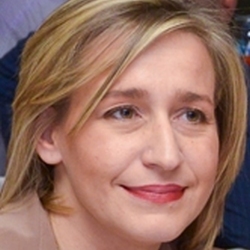 Vicky Oikonomou
Governmental and Strategic Affairs & Patient Engagement and Advocacy Director, Janssen
Vicky Oikonomou has more than 20yrs experience in Pharmaceutical Industry, through various positions in Regulatory Affairs, Market Access and Governmental Affairs, contributing to bringing innovative and lifesaving treatments to patients.
She is a member of the Janssen Greek Leadership Team and is participating in European Janssen projects focusing on pharma innovative industry contribution in securing a sustainable healthcare environment.
She holds a BSc in Chemistry from the National and Kapodistrian University of Athens, an MSc in Biotechnology/ Applied Microbiology from the University of Westminster, London, UK and a Diploma in Pharmaceutical Medicine from the University of Basel, Switzerland.