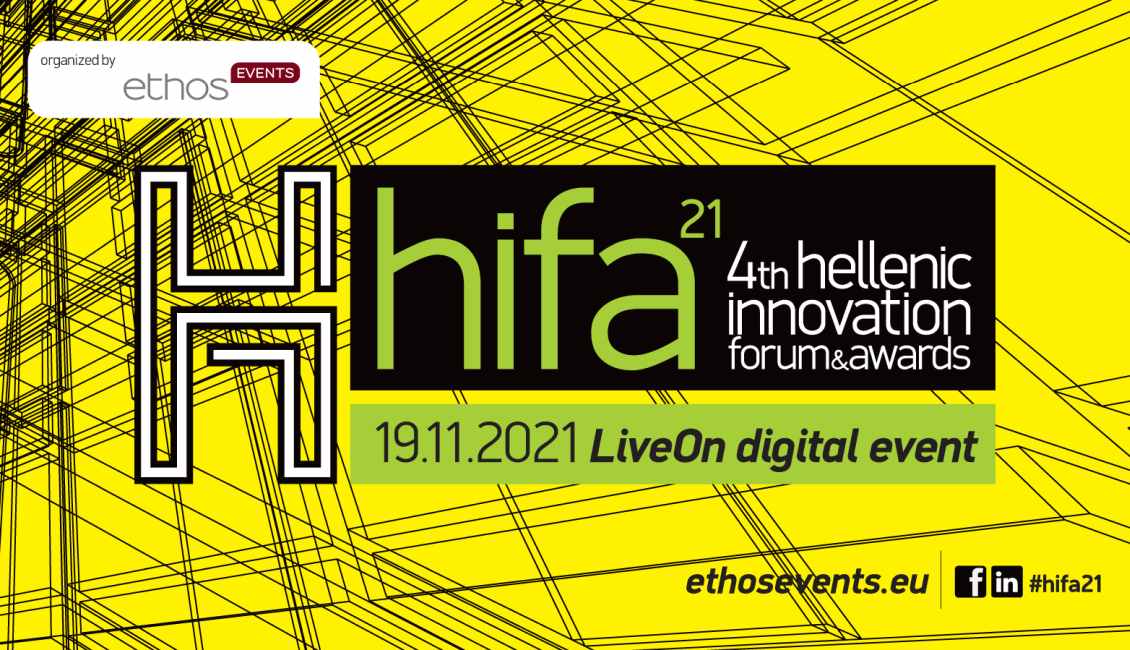 The Hellenic Innovation Forum & Awards 2021 will take place on 19 November this time digitally through LiveOn, ethosGROUP's integrated digital technology on business communication, and its 3D exposition and conference center LiveOn Expo Complex.
Learn more about LiveOn and LiveOn Expo Complex
The COVID-19 pandemic accelerated a series of procedures and developments in the Greek economy, among which is the promotion of innovation as one of the essential characteristics of the country's new production model. This issue will be the main discussion topic of the Hellenic Innovation Forum & Awards 2021 (#hifa21), which is organized by ethosEvents in collaboration with the economic and business portal banks.com.gr and HRIMA magazine
This year's Hellenic Innovation Forum aims at highlighting all issues and challenges related to the utilization of innovative business ideas and Greece's high-quality human resources as well as ways to attract more investments in the sector of research and development.
At the same time, the Hellenic Innovation Awards have the objective to reward businesses and people who contribute to the establishment of innovation as a basic pillar of Greece's new production model. They are addressed to companies of all sizes and types, no matter how long their market presence, as well as international corporate groups that have chosen to invest in Greece after identifying the opportunities it has to offer and the top quality of its human resources.
"Innovation and Greece's new production model"
The agenda of the Hellenic Innovation Forum is focused on the present and future of the innovation sector in Greece and includes the following topics:
Innovative companies involved in the sectors of technology, agri-foods, tourism, life sciences, energy, aerospace industry, logistics and industrial production.
Large-scale Greek companies and organizations with innovative acivities in various sectors, which are characterized by remarkable extroversion and promote innovation through investments, funding and contests.
Multi-national corporations that invest in Greece by establishing Research&Development centers and hubs.
Initiatives such as incubators and accelerators which help promote innovation all over Greece.
Government action aimed at promoting innovation.
Activities related to the interconnection of the academic/research community and businesses.
Action for boosting innovation in provincial areas.
The presentations and discussions will take place on LiveOn platform, which enables optimum interaction among participants of the Hellenic Innovation Forum, with the goal to highlight as much as possible the key role of innovation in the new production model of the Greek economy.