This year's Insurance Intermediaries Forum titled " Insurance Solutions in times of COVID-19" was a great success. The event, which took place on 30 October, was attended by insurance market and insurance mediation professionals as well as representatives of other sectors of the economy.
Eighteen renowned speakers analyzed the value and benefits of insurance, presenting to selected clients solutions and products for any type of modern-day market need. In the Forum's two Panels, participants discussed the changes brought to Health Insurance by the COVID-19 pandemic, debated on the degree of protection of a company's fixed assets and explored issues regarding different types of liabilities, merchandise, credit, technical insurance and risks related to natural disasters.
The conference took place through LiveOn, ethosGROUP's integrated digital technology for business communication, giving participants in Greece and all over the world the opportunity to attend its works distantly and safely. In addition to the intriguing presentations, speeches, discussions and overall rich content, participants were able to explore the countless networking options offered by LiveOn to its users.
We would like to extend a warm thank you to the companies that sponsored the event as well as to all participants.  
Kind regards,
Konstantinos Ouzounis
CEO, ethosGROUP
This year's Insurance Intermediaries Forum brought a major innovation: it was organized 100% online through LiveOn, ethosGROUP's integrated digital technology for business communication.
You may access the @LiveOn Forum area by clicking on the photo.

Welcome Address
Konstantinos Ouzounis, CEO, ethosGROUP
Mr. Konstantinos Ouzounis pointed out that the objective of the Insurance Intermediaries Forum is to constitute the main means of communication between insurance intermediaries and end consumers.
Institutional Greeting
Alexandrer Sarrigeorgiou, Chairman of the Board of Directors, Hellenic Association of Insurance Companies, Chairman & Chief Executive Officer, Eurolife FFH Insurance Group
Mr. Alexander Sarrigeorgiou underlined that we must keep our composure as COVID-19 brings the future into the present at an accelerated pace, noting that "Professional Insurers have proven their worth. However, everybody should be prepared to introduce digital tools into their work so as to keep up with developments".
Institutional Greeting
Giannis Chatzitheodosiou, President, Athens Chamber of Tradesmen, President & CEO, Mega Brokers SA
Mr. Giannis Chatzitheodosiou presented the various activities of the Athens Chamber of Tradesmen placing emphasis on the new digital era and its focus on education.
Institutional Greeting
Michalis Tzortzoris, Chairman, Hellenic Insurance Brokers Association (ΗΙΒΑ)
Mr. Michalis Tzortzoris indicated that Insurance is an important development tool and stressed the fact that the healthcare sector has severely suffered in the last years due to the abolition of tax reliefs and imposition of VAT.
Institutional Greeting
Ioannis Tozakidis, President, Hellenic Union of Insurance Intermediaries (HUII), President, PanHellenic Association of Agency Managers (PSSAS), Agency Manager, Founder & Managing Director, Liberty Insurance Agents
Mr. Ioannis Tozakidis marked that in times of corona-virus, people who were accustomed to in-person transactions and interaction in their work and other sectors of their lives, were forced to display great adaptability.
Institutional Greeting
Panagiotis (Takis) Michalopoulos, President, Hellenic Federation of Independent Insurance Agents (POAD)
Mr. Panagiotis Michalopoulos underlined that "proper education is key in the fight against low insurance awareness, which is counter-productive in terms of development".
Institutional Greeting
Theodora Gourgouli, Insurance & Investment Consultant, President, Panhellenic Association of Insurance Advisors (PSAS)
Mrs. Theodora Gourgouli noted that our priority is to "find and inspire people who want to improve their lives through our work".
Institutional Greeting
Maria Dimitriadi – Viltanioti, President, Association of Insurance Agents in Attica (SPATE) & General Secretary, Panhellenic Federation of Independent Insurance Distributors (POAD)
Corporate presentation:
Nikos Chouliaras, Director, Sales & Business Development, Eurolife FFH
Mr. Nikos Chouliaras referred to the key role of private insurance in Greek society and economy, corporate development, production growth and added value generated from cooperation networks.
Corporate presentation: "Credit Insurance in times of Covid-19 pandemic"
George Koutouzos, Head of Sales and Account Management, Euler Hermes
Mr. George Koutouzos stressed that "it is important to be there for the client not only at the compensation stage but also during legal proceedings. Credit insurance safeguards a company's business assets and also contributes to the expansion of its customer base".
An honorary award was presented posthumously to George Koumbas, Founder of the Hellenic Insurance Brokers Association (HIBA) and former Managing Director of Eurobrokers.
The award was presented by Konstantinos Ouzounis, CEO, ethosGROUP, to Mrs. Anna Koumba, wife of the late George Koumbas, his son Alexander Koumbas and his close associate Mrs. Efi Koutsovassili.
Panel 1: Healthcare - Retirement & Savings Plans
Moderator: Vaios Krokos, Journalist
Speakers:
Margarita Antonaki, General Manager, Hellenic Association of Insurance Companies (H.Α.I.C)
Chris Aesopos, CEO, Alpha Trust & 1st Vice President, Hellenic Fund and Asset Management Association, Greece
Nikos Kostaras, General Manager Greece, IQVIA
Sotirios Berssimis, Associate Professor, Statistics & Insurance Science, University of Piraeus
Michalis Tzortzoris, Chairman, Hellenic Insurance Brokers Association (ΗΙΒΑ)
Panel 2: Business Risks & Cyber Risks
Moderator: Konstantinos Ouzounis, CEO, ethosGROUP
Speakers:
Dimitris Gavalakis, Secretary General, Athens Chamber of Tradesmen
Nikos Georgopoulos, Cyber Risks Advisor, Cromar Insurance Brokers Ltd – Lloyd's Cover Holder
George Papadimitriou, Accountant, Supervisor business registry in Chamber of Karditsa
Nicholas Rodopoulos (M.Sc.), President, Hellenic Logistics Association and OnLine Data SA
The Forum was organized with the invaluable support of: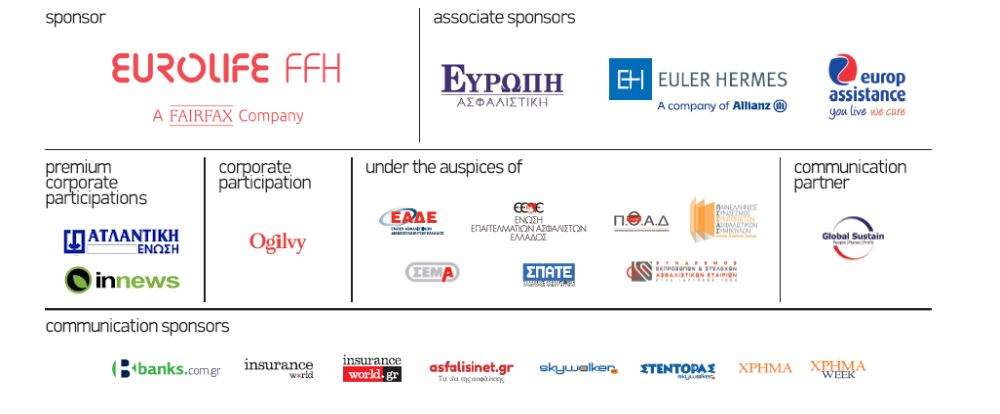 Program Manager:
Vaios Krokos, Journalist
e-mail: [email protected]
Sponsorship programs:
Konstantinos Ouzounis, CEO, ethosGROUP
Tel:+30 210 998 4864
e-mail: [email protected]
Rando Manologlou, Key Account Manager
Tel:+30 210 998 4863
e-mail: [email protected]
Vasilis Papadopoulos, Key Account Manager
Tel: +30 210 998 4904
e-mail: [email protected]
Individual Participations:
Voula Vassilikou, Sales Executive
Tel: +30 210 998 4908
e-mail: [email protected]
Marketing & Communication 
Ioannis P. Triantafyllou, Board Advisor – Director of Marketing
Tel:+30 210 998 4810
e-mail: [email protected]
Alessandra Papaspiliotopoulou, PR & Marketing Communications Manager
Tel:+30 210 998 4917
e-mail: [email protected]
Social Media:
Andreas Baltas, Events Marketing & Social Media Executive
Tel:+30 210 998 4906
e-mail: [email protected]
Event Coordinator:
Konstantinos Salvarlis, Events Director
Tel:+30 210 998 4909
e-mail: [email protected]a.eu
Aris Lavdis, Events Manager
Tel:+30 210 998 4814
e-mail: [email protected]
Stelios Galatoulas, Events Executive
Tel:+30 210 998 4920
e-mail: [email protected]
For information on the program & Auspices
Mariana Vazaiou, Head of Events Content
Tel:+30 210 998 4932
e-mail: [email protected]
Markella Farkona, Events Programme Executive
Tel:+30 210 998 4865
e-mail: [email protected]