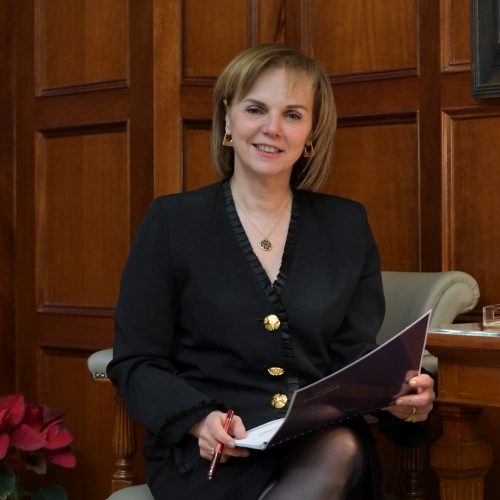 Christina Papaconstantinou
Deputy Governor of the Bank of Greece
Christina Papaconstantinou, a graduate from the Law School of the University of Athens and holder of a master's degree (LLM) in European Community Law from the University of London, is a Deputy Governor of the Bank of Greece. She has a long experience in financial services, structural reforms, the coordination of economic policies and issues pertaining to fiscal policy, financial support by the State, liquidations and non-performing loans.
She has served as Secretary General of the Ministry of Finance and as Secretary General of Fiscal Policy at the General Accounting Office (2012-2014). She has participated in the negotiations in the context of the economic adjustment programmes, the Private Sector Involvement (PSI) and was a member of the team coordinating the implementation of the economic adjustment programmes. She has represented Greece at the ECOFIN Council, in OECD high-level and Ministerial Council meetings, in EU working groups and as an expert in IMF missions.
She was a member of the executive committee of the Government Council for Private Debt Management and of the Financial Stability Board, a research associate at the Economic Research and Analysis Unit of the Council of Economic Advisors of the Ministry of Finance, the Prime Minister's Office, the Economic and Financial Unit of the Permanent Representation of Greece to the European Union and the European Affairs Department of Emporiki Bank.