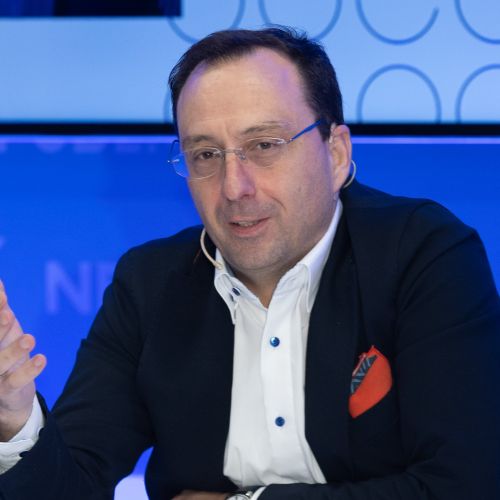 Dr
Athanasios
Potsis
President of the Hellenic Industrial Space Association (HASI)
Athanasios Potsis was born at Mainz – Germany, on 1974.
He holds a Ph.D. degree in Electrical & Computer Engineering from the National Technical University of Athens, Greece. He also holds a Diploma in Electrical & Computer Technology from the University of Patras- Polytechnic School. Graduate of EU European Defense Agency SERA-27 (EU Armament Expert) IHEDN.
Dr. Potsis has worked at German Aerospace Centre (DLR), Institute of Radar Systems, from 1998 to 2001 as a Member of Scientific Staff in the Digital Signal Processing Department and he was involved in the fields of Radar electronics, Radar signal processing and Electronic Warfare Systems. He has worked at AIRBUS Defense and Space Company – AIRBUS from 2001 to 2003 as external technical consultant. He has worked for INTRACOM Defense Electronics from September of 2003 up to September of 2006 as Product Marketing Engineer on strategic investments.
Since September 2010, Dr. Potsis holds the position of Managing Director- Offsets & Industrial Cooperation, in EFA Group/ Aerospace Ventures where he is responsible for the development of new business opportunities for Industrial cooperation through indirect offsets in Global scale.
Since 2006 Dr. Potsis is providing consulting services to several Governments all over the world (including: Greece, Finland, Portugal, Israel & Indonesia) supporting local Aerospace & Defence Industry to utilize offset market.
Since 2008 he is the President of the Hellenic Industrial Space Association and was participating in the core of the team developed the first industrial space cluster in Greece (called "Si-Cluster"). Since 2013 he is a member of the board of the Si-cluster.
Since 2010 he is member of the Board of Directors of the ESA Business Incubator Center in Greece (ESA-BIC).
Since 2006 he gives lectures at the Hellenic Air Force School of War as well as to the Supreme National School of War.