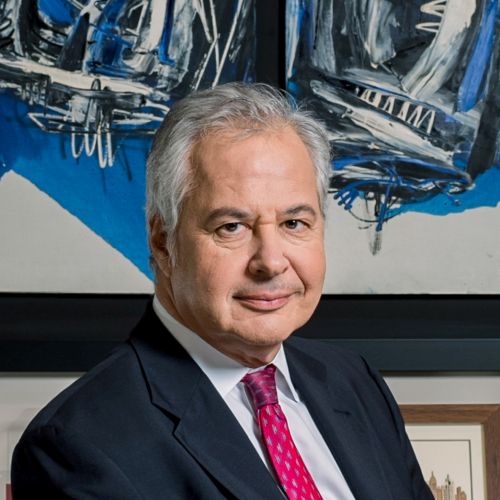 Georgios 

Taniskidis
Chairman

,

 

Optima bank
Having 30 years of experience in the Banking Sector, Mr. George Taniskidis holds the position of Optima bank's Chairman. 
He commenced his career as an associate attorney with the law firm of Rogers & Wells (later acquired by Clifford Chance) in New York. Upon his return to Greece, he joined Motor Oil Hellas, where he was initially responsible for the establishment of joint ventures in Russia and the Ukraine. 
His banking career commenced in 1990, in Xiosbank, where he held the position of Head of the Consumer Business Group and Branch Network. Upon Xiosbank's acquisition (late 1998) by Piraeus Bank, Mr. Taniskidis was appointed General Manager and served on the Strategic Planning Committee. 
From 2002 until June 2010, as Chairman and Managing Director of Millennium Bank Greece, Mr. Taniskidis led the Bank from concept to fruition. As CEO he oversaw the Bank's network expansion from 40 (day one) to 170 branches, its accession to profitability above projections in 4 years, and its development from a retail bank to a fully-fledged financial institution. In the same period, he also served as Member of the Board of Directors of Millennium Bank Turkey. 
From late July until October 2011, Mr. Taniskidis served as the interim Managing Director of Proton Bank during the transition period, where he successfully maintained the bank's liquidity and access to markets during the tumultuous period prior to its split into "good bank" and "bad bank" entities. 
From 2003 to 2005, he was a Member of the Board of Directors of Visa International Europe. 
From 2008 to mid-2010, he served as a Member of the Board of Directors of the Hellenic Banks Association. 
Today he serves on the Boards of Directors in a variety of companies in the trading, manufacturing and shipping sectors, as well as Member of the Board of Directors of the Hellenic Banks Association. 
He played a pivotal role in the acquisition of Marfin Bank Romania (currently VISTA BANK). He also envisaged the opportunity to create a bank without legacies in Greece. He pursued this goal fervently and finally he acquired Investment Bank of Greece (currently Optima bank). 
Mr. Taniskidis holds a Law degree from the University of Athens Law School, having graduated first in his class and a Master of Laws (LL.M.) from the University of Pennsylvania Law School.