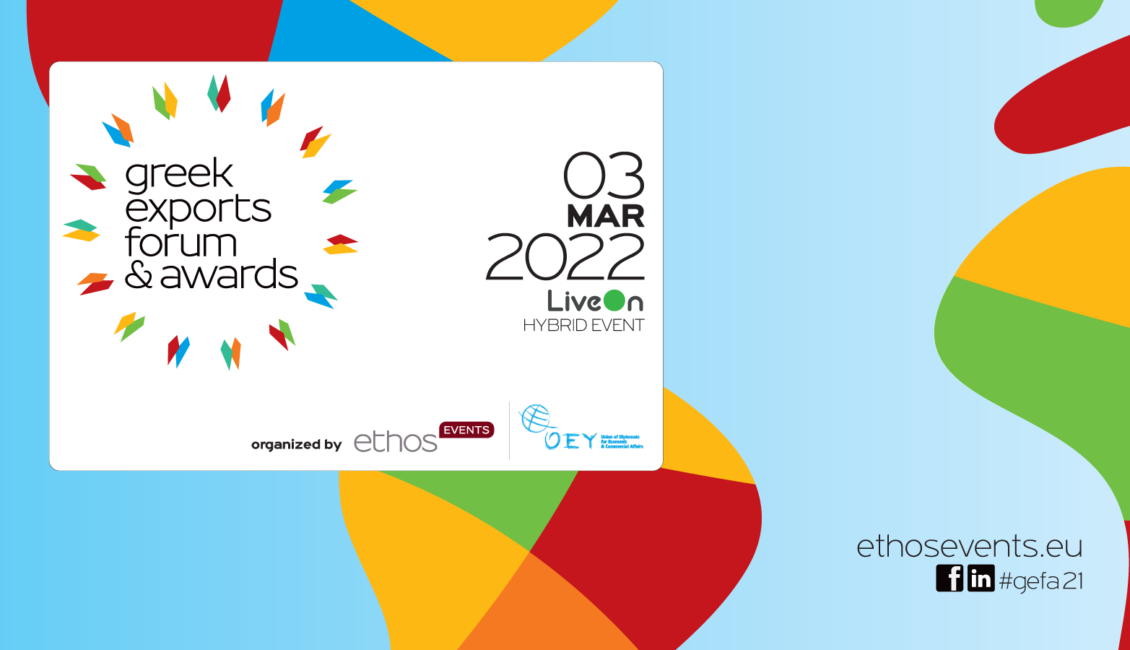 For the 10th consecutive year, the Union of Diplomatic Officers for Economic & Commercial Affairs (ENDY OEY) of the Hellenic Ministry of Foreign Affairs, in collaboration with ethosEVENTS, the portal on economy and business banks.com.gr and HRIMA magazine on finance and investments, organize the Greek Exports Forum, the conference which has become an institution for the exporting sector. This year's event will be organized in parallel with the Greek Exports Awards 2021.
The Greek Exports Forum & Awards 2021 will showcase the opportunities which the new National Recovery and Resilience Plan offers to exporting businessses and will provide the latter with useful tools and information that will enable them to boost their exporting activities, at a time of major concern regarding the incresased transport costs.
In addition, the event aims to spotlight and reward the companies which stood out in the exports sector during a year afflicted by the pandemic.
COVID-Free Awards Ceremony
The Greek Exports Awards 2021 ceremony will take place as a hybrid event on 3 March 2022 and will be attended by a predetermined number of participants in compliance with health protocols in force.
Only fully vaccinated participants will be allowed to be physically present at the event or participants who have recovered from COVID-19 showing a valid certificate and ID documentation.
In this year's hybrid event, speakers and the winners of the awards will be physically present during the forum and awards ceremony, which will take place in a specially set up hall, while the audience will attend digitally through LiveOn, the first fully equipped, all-in-one digital platform for Business Communication and Events, and its 3D online exposition center, LiveOn Expo Complex.
Explore the various viewing options offered by LiveOn Expo Complex.
B2B Meetings of Greek Exporters with Sponsors & Bilateral Chambers
The organizers will offer to participants-aspiring exporters the opportunity to have consultation meetings (B2B meetings) with Representatives of SPonsors & Bilateral Chambers on Friday 04/03/2022 from 10:00 to 17:00.
During these meetings, entrepreneurs will be able to explore networking prospects in the markets they are interested in and get detailed information on challenges and opportunities with respect to bilateral commercial relations.
The Β2Β meetings will be scheduled through LiveOn, the event's digital platform, on a first-come-first-served basis.