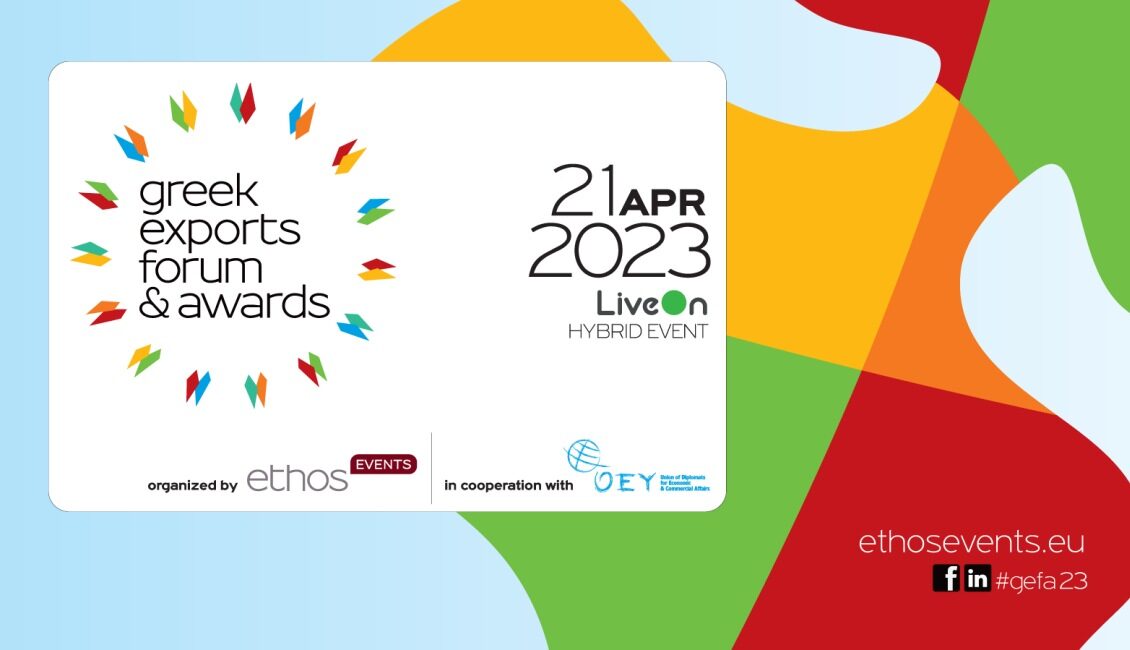 Save the New Date: 21 April 2023
In a year in which Greek exports set another record, exceeding the 50 billion euros mark (from the 11th month of 2022 already) for the first time in history, this year's Greek Exports Forum & Awards highlight the opportunities that exist for export businesses, providing valuable information and useful "tools" to enhance their export activity.
At the same time, the event will showcase and reward businesses that stood out in the export sector in yet another year impacted by geopolitical conflicts, the pandemic and high costs.
For the 11th consecutive year, the Αssociation of Diplomatic officials for Economic & Commercial Affairs of Foreign Affairs in cooperation with ethosEVENTS, the financial and business portal banks.com.gr, and the financial and investment journal HRIMA are organizing the Greek Exports Forum, which will once again this year be held in parallel with the Greek Exports Awards 2023.
Over the years the Greek Exports Forum & Awards have given potential exporters the opportunity to listen to the right people, institutional and other market players, and to discuss the latest economic data and the latest development plans. Moreover, successful exporters have the chance to present their companies' success stories and share their own valuable experiences and knowledge with the public.
The multi-member jury comprised of leading figures from the institutional and business world and the public (in a separate vote) will once again showcase the 'top players' driving growth in 48 categories of awards in 4 different areas of export activity.
The Award Ceremony for the Greek Exports Awards 2023 will be held physical at the Athenaeum InterContinental hotel, and digital through LiveOn, the integrated platform for Digital Communication and Events, and its innovative 3D exposition and conference center LiveOn Expo Complex.
B2B Meetings between exporters and representatives of Offices for Economic and Commercial Affairs, sponsors and bilateral chambers
The organizers have ensured that potential exporters/participants can hold B2B meetings on Monday 24.4.2023 with representatives of sponsors and the following Offices for Economic and Commercial Affairs of the Ministry of Foreign Affairs and Bilateral Chambers.
Markets of ECF
1. Tirana (Albania)
2. Skopje (North Macedonia)
3. Beijing (China)
4. Tokyo (Japan)
5. Rome (Italy)
6. Berlin (Germany)
7. Paris (France)
8. Zagreb (Croatia)
9. Dubai (UAE)
10. Cairo (Egypt)
11. Washington (USA)
12. Sofia (Bulgaria)
13. Tel Aviv (Israel)
14. Brussels (Belgium)
Bilateral Chambers
1. Greek-Azerbaijani Chamber of Commerce and Business
2. Hellenic-African Chamber of Commerce and Development
3. Arab-Hellenic Chamber of Commerce & Development
4. Hellenic-Bulgarian Chamber of Commerce and Industry
5. Hellenic-French Chamber of Commerce and Industry
6. Hellenic-German Chamber of Commerce and Industry
Bilateral Chambers
7. Hellenic-Spanish Chamber Commerce
8. Hellenic-Italian Chamber of Athens
9. Hellenic-Canadian Chamber of Commerce
10. Hellenic-Chinese Chamber of Commerce, Industry, Tourism & Shipping
12. Greek-Turkish Chamber
13. Hellenic-Finnish Chamber of Commerce
At these meetings entrepreneurs will be able to explore the prospect of networking in the markets of interest to them and to learn in detail the difficulties and opportunities for bilateral commercial partnerships.
Note that:
• These meetings will be scheduled by participants themselves and held via LiveOn, the event's digital platform. They are available on a first-come-first-served basis..
• In order for meetings to take place it is necessary for the relevant representatives of the said Offices for Economic and Commercial Affairs, bilateral chambers and sponsors to respond to/accept the invitation.
• Each participant can book up to four B2B meetings (each lasting 20 minutes with a 5-minute break). The cost of each additional B2B meeting is €30.
• Where the meeting does not take place or is canceled, responsibility lies exclusively with the participant or representative of the said bodies who was unable to attend the meeting.